Devotional: Let the peace of God rule your heart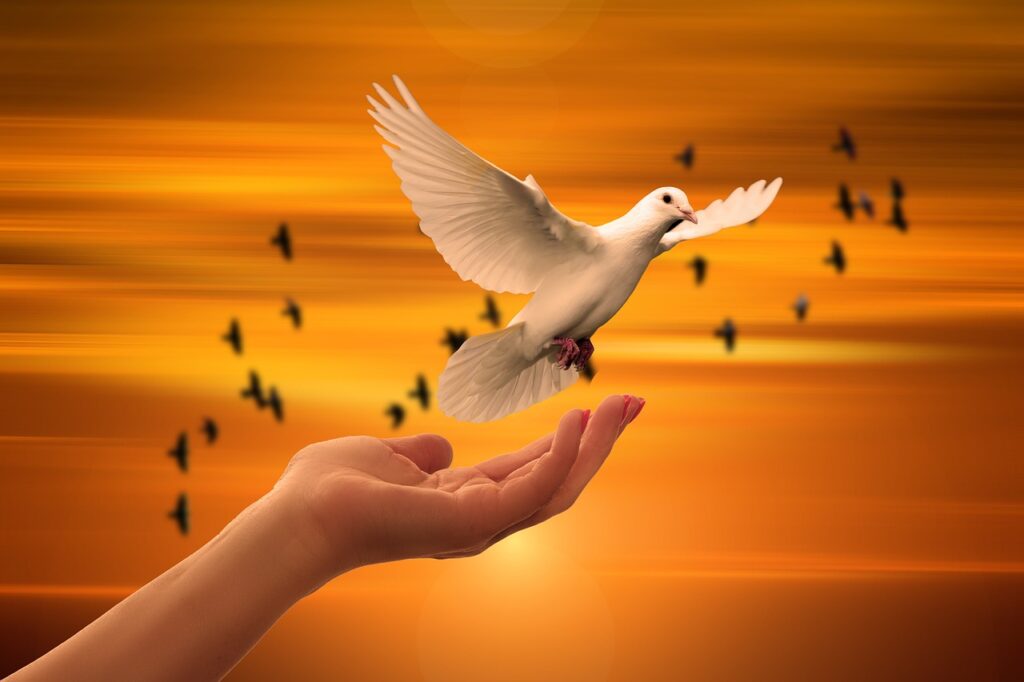 8 January, 2023
Bible Reading
Let the peace of Christ rule in your hearts, since as members of one body you were called to peace. And be thankful.
The peace of God is the eternal birthright and uncommon privilege of those who have been reborn in Christ. Accepting Jesus as our Lord and saviour is accepting the Prince of peace to rule and reign in our lives. Though present, the peace of God is a reality only for children of God whose mind is fixed on him and free from anxieties.
The world we live in is full of troubles and unending challenges but we have been assured by Christ that he has overcome the world. This is the reason we can choose to cheerful even when the world is falling apart.
God's peace will not invade your heart. You would need to allow it by focusing on the faithfulness of God and his promises and trusting him to come through for you.
You need the God of Peace as much as you need the peace of God
Isaiah 26:3  You keep him in perfect peace whose mind is stayed on you, because he trusts in you
Philippians 4:6-7 Do not be anxious about anything, but in every situation, by prayer and petition, with thanksgiving, present your requests to God.And the peace of God, which transcends all understanding, will guard your hearts and your minds in Christ Jesus.
It is a peaceful heart that can be thankful. It is a peaceful heart that can make right decisions. Deliberate Christian, awaken to the consciousness that the prince of peace is in control of your life and all that concerns you. Peace is not the absence of challenges. In the midst of challenges, trust in God gives us the assurance of God's help and faithfulness
When a heart is devoid of thanksgiving and praise, peace with God is hindered. This is why scripture warns us to be anxious for nothing but to be filled with heavenly thanks and praise to God. For a thanksgiving that flows out of a true heart puts the keys to miracles in our hands.
John 14:27 – Peace I leave with you; my peace I give you. I do not give to you as the world gives. Do not let your hearts be troubled and do not be afraid.
1 Thess 5:18 – give thanks in all circumstances; for this is God's will for you in Christ Jesus.
Are you always thankful for everything? Our Lord Jesus during his earthly ministry gave thanks in all circumstances. He was not moved by the news of Lazarus' death. He didn't lose hope in bringing him back to life.
No matter what the circumstances may be, be thankful and stop worrying for thanksgiving and praise is the power that makes the unexpected happen.
Acts 16:25 About midnight Paul and Silas were praying and singing hymns to God, and the prisoners were listening to them,
 John 11:41  - Then they took away the stone from the place where the dead man was lying. And Jesus lifted up His eyes and said, "Father, I thank You that You have heard Me.
Prayer
Lord I pray for grace and strength to be filled with the power of praise and thanksgiving and not worry and fear to the glory of God in the mighty name of Jesus Christ.
Are you troubled because you seek answers to an issue or have unanswered questions that are depriving you of your peace? Say these prayers to receive an answer of peace
Deliberate Christian Confession
The Prince of peace is with me and in me. I shall not be moved
Jesus is LORD.